AM2301 Capacitive Digital Temperature & Humidity Sensor sensor is one of the commonest from the range of DHT temperature sensors; and boasts a relatively high-temperature measurement accuracy of 0.5°C in 0.1°C steps with a relative humidity accuracy of ± 3%.
It has only 3 wires, including power and ground, meaning only one digital pin is required to interface it to a microcontroller. For Arduino development platforms the sensor is very well supported by the DHT library available from the Arduino Playground website.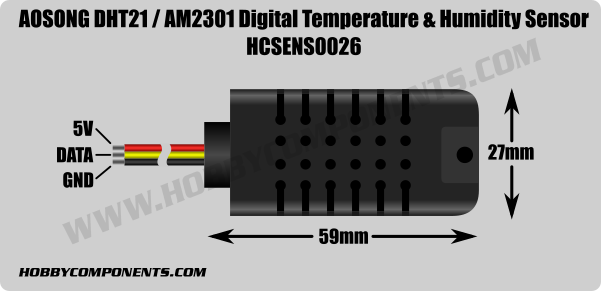 Features:
4-pin package.
Ultra-low-power.
No additional components.
Excellent long-term stability.
All calibration, digital output.
Completely interchangeable.
Long-distance signal transmission.
Relative humidity and temperature measurement.
Specifications:
Model: AM2301
Power supply: 3.3-5V DC
Output signal: digital signal via single-bus
Sensing element: Polymer humidity capacitor
Measuring range: humidity 0-100%RH; temperature -40~80Celsius
Accuracy: humidity +-3%RH(Max +-5%RH); temperature <+-1Celsius
Resolution or sensitivity: humidity 0.1%RH; temperature 0.1Celsius
Repeatability: humidity +-1%RH; temperature +-0.2Celsius
Humidity hysteresis: +-0.3%RH
Long-term Stability: +-0.5%RH/year
Sensing period: Average: 2s
Dimensions size 59*27*13.5mm
General Specification
Model
AM2301
Supply Voltage (V)
3.3 ~ 5
Average Current Consumption (mA)
300
Humidity
0 ~ 99.9 %RH
Precision
3% RH
Output type
Digital (1 wire)
Operating Temperature (Celsius)
-20 ~ +60
Cable Length (cm)
20
Length (mm)
60
Width (mm)
27
Height (mm)
14
Weight (gm)
15
Shipment Weight
0.018 kg
Shipment Dimensions
8 × 7 × 5 cm
–
Documentation:
–
Package includes:
1 x DHT21 AM2301 Temperature & Humidity Sensor